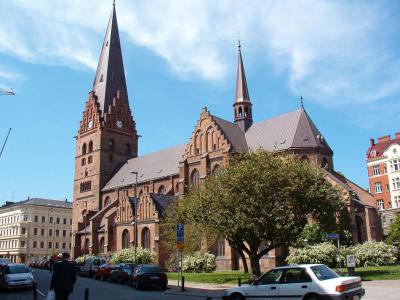 Sankt Petri Kyrka (St Peter's Church), Malmo
(must see)
St. Peter's Church is Malmo's oldest church and the city's oldest preserved brick building. Originally, it was Malmo's only parish church. St. Peter's Church was constructed on the site of an earlier church between 1319 and 1380. The church features Brick Gothic architecture and was constructed with red brick.

After the original tower collapsed in 1420, a new tower was built. The tower was renovated in 1442 and 1890. The imposing tower is 98 meters (322 feet) tall. During the 15th and 16th centuries, five side chapels were built. Three of the side chapels survive today. The church porch was built in the 15th century.

Swedish scholar and architect Carl Georg Brunius renovated the church in the 1800s. The roof was replaced with a copper roof, and many bricks were replaced. In addition, the church was renovated several times in the 1900s.

The interior is dominated by its 25-meter tall (82 foot) nave. The whitewashed interior features beautiful medieval murals from the 15th and 16th centuries.

St. Peter's oak altarpiece is impressively large, reaching 15 meters (49 feet) tall. The altarpiece dates to 1611 and features four levels depicting various Biblical scenes.

The pulpit was inaugurated in 1599. It was crafted with black limestone, light sandstone, and gilt and features scenes from Christ's life.

Similar to the pulpit, the baptismal font was crafted from black limestone and dedicated in 1601. The octagonal font features Biblical scenes.

St. Peter's has a 1951 organ with an older facade. The church's small library houses books from the 16th century.
Sankt Petri Kyrka (St Peter's Church) on Map
Walking Tours in Malmo, Sweden