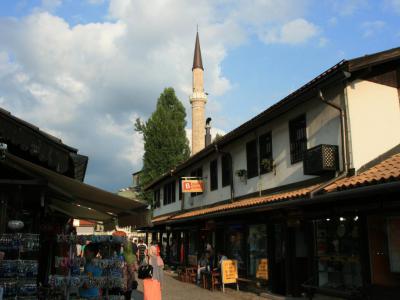 Sarači Street, Sarajevo
Saraci Street, formerly known as Petar II Karadordevic Street, is one of the main pedestrian streets in Sarajevo. The street runs east to west from Bascarsija (Old Bazaar) to Ferhadija Street, respectively.

The pedestrian street is known for its shops that sell traditional handicrafts. Visitors can shop for jewelry, candy, books, accessories, and perfumes. They can even stop at a gallery to appreciate local art.

There are numerous places for tourists to stop to have coffee, drinks, and Bosnian baked goods. Visitors can try falafel or kebab at an indoor restaurant or at one of the open-air tables.

Saraci is also known for its historic buildings. Some of these are the Gazi Husrev-beg Mosque and Museum; and the Morica Han.

The street gains its name from the Turkish word "sarach," which refers to saddlemakers. Having existed since 1462, it was one of the first-named streets in the city. Sarači Street was declared a National Monument of Bosnia and Herzegovina in 2014.
Walking Tours in Sarajevo, Bosnia-Herzegovina