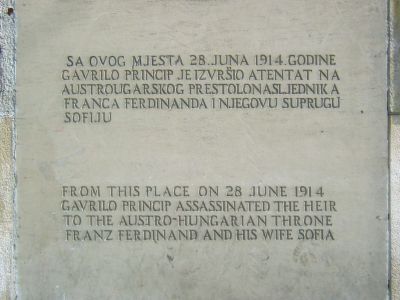 Sarajevo Assassination Memorial Plaque, Sarajevo
The Assassination Memorial Plaque in Sarajevo is a historical monument that commemorates the assassination of Archduke Franz Ferdinand of Austria and his wife Sophie, Duchess of Hohenberg, which took place on June 28, 1914.

The assassination was carried out by a group of Bosnian Serb nationalists, called the Black Hand, who sought independence for Bosnia and Herzegovina from Austro-Hungarian rule and saw it as an opportunity to gain international attention for their cause.

Indeed, the murder proved a pivotal moment in international history as it set off a chain of events that ultimately caused World War I. Shortly after the incident, Austro-Hungary declared war on Serbia, leading to a complex web of alliances and conflict that engulfed Europe and the entire world.

The plaque is located on the site where Gavrilo Princip, the young member of the Black Hand, shot and killed the royal couple. It was originally erected in 1915, the year after the assassination, by the Austro-Hungarian authorities to mark the spot where the fatal attack took place. After World War I, Sarajevo became part of the newly-created Kingdom of Yugoslavia, and the plaque was removed. However, it was later reinstated during the period of communist rule in Yugoslavia, and today remains in its original place.

Mounted on the wall, the rectangular stone tablet bears the inscription in both Serbian and English that reads, "FROM THIS PLACE ON JUNE 28 1914 GAVRILO PRINCIP ASSASSINATED THE HEIR TO THE AUSTRO-HUNGARIAN THRONE FRANZ FERDINAND AND HIS WIFE SOPHIA" and serves as a reminder of the great impact that this event had on global history.
Sight description based on Wikipedia.
Sarajevo Assassination Memorial Plaque on Map
Walking Tours in Sarajevo, Bosnia-Herzegovina