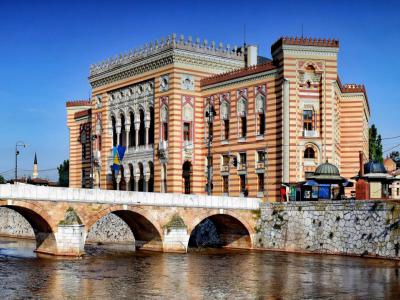 Sarajevo City Hall, Sarajevo
(must see)
Sarajevo City Hall, known as Vijecnica, is a symbol of Sarajevo and one of the most beautiful monuments from the Austro-Hungarian period. It is the seat and headquarters of the Mayor of Sarajevo and the Sarajevo City Council. The building has been used for various municipal purposes since its construction, including as a City Court and Parliament House until 1949, when it became the National and University Library of Bosnia and Herzegovina, through the late 20th century.

Construction of the City Hall began in 1891 and was completed in 1896. It was first designed by Czech architect Karel Parik. After he was removed from the job by Baron Beni Kallay, the Austrian-Hungarian architect Alexander Wittek took over. Wittek died before the construction could be completed, so Ciril Ivekovic, a Croatian architect, finished the project. The building was inspired by Spanish and Northern Africa Islamic art.

The City Hall was destroyed in 1992 during the Siege of Sarajevo. About 700 manuscripts, including unique publications, were lost. Reconstruction of the building began in 1996 and was completed in 2014. Since its reopening, the space has been used as an exhibition hall, a concert venue, and the National Library. It is now considered a National Monument of Bosnia and Herzegovina.
Sarajevo City Hall on Map
Walking Tours in Sarajevo, Bosnia-Herzegovina