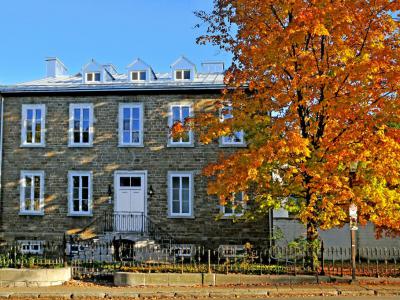 Sewell House (Maison Sewell), Quebec City
Built in 1803-1804 and inspired by British Classicism, the Jonathan Sewell House illustrates early 19th-century development in Québec's upper middle-class settlement of Upper Town. The original owner, a lawyer, was appointed Solicitor General and Attorney General of Lower Canada before becoming Chief Justice and Chairman of the Executive Council in 1808. The Sewells had 16 children who were educated here, but the home was also known for hosting political debates.

In the early decades of the 19th century, the construction of dwellings for Anglophone elites introduced a new architectural vocabulary that included neoclassical elements such as symmetrical openings, low-pitched roofs, and a restrained appearance. The Sewell House's architectural character, as well as its well-crafted ashlar masonry construction, mirrors the penchant for British classical design so evident in nearby military buildings.

The property's official recognition also refers to the adjoining buildings, including the Saint-Louis barracks at the rear, and the Squash Ball Court, former workshop, garages and warehouse, built in different eras along the property's west border.
Sewell House (Maison Sewell) on Map
Walking Tours in Quebec City, Quebec