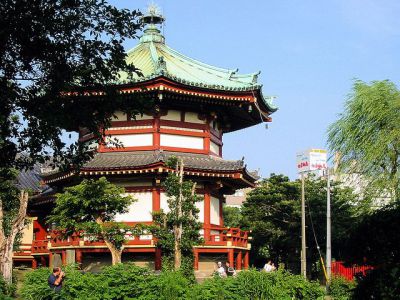 Shinobazu-no-ike Bentendo Temple, Tokyo
The goddess Benzaiten is honored by the Shinobazu-no-ike Bentendo Temple in Ueno Park. This Buddhist temple stands on an island in Shinobazu Pond.

Benzaiten was the only female among Japan's Seven Lucky Gods. As a river goddess, her temples are almost exclusively built near water. She is also the goddess of dance, music, wealth, wisdom and words.

Shinobazu-no-ike Bentendo Temple was once part of the Kan'ei-ji Temple, which was destroyed during the Battle of Ueno in 1868. Few of the structures that were part of that complex were able to survive, which makes Shinobazu-no-ike Bentendo Temple even more unique.

This temple was constructed in 1625 by a Buddhist monk, Tenkai. It was inspired by Enryakuji, a Buddhist temple near Kyoto. Tenkai ordered the planting of lotuses, the Buddhist symbol of purity, which continue to grow in the nearby Lotus Pond today.

Near the temple are a number of stone statues. The Biwa is a lute-shaped instrument that represents Benzaiten. Ugaijin, the god with the head of a man and a body of a serpent, is the god of harvests and fertility.

Visitors to Ueno Park will find plenty of sites to see. They may want to plan an entire day or even two full days exploring the park. Those who are short on time should make sure they find their way to the Shinobazu-no-ike Bentendo Temple so they may honor Benzaiten.
Shinobazu-no-ike Bentendo Temple on Map
Walking Tours in Tokyo, Japan
Useful Travel Guides for Planning Your Trip
---