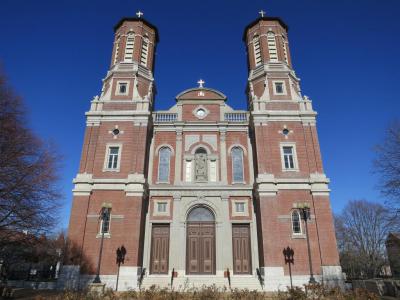 Shrine of St. Joseph, Saint Louis
The Shrine of St. Joseph is a Catholic church in Columbus Square in St. Louis. The church had its beginning in 1843 when the Jesuits founded the parish to serve a pleasant residential community consisting mostly of German immigrants. Also, the Church is the site of the only authenticated miracle in the Midwest. After founding the parish in 1843,the Jesuits immediately instituted to build a church. Two years after 'St. Peter Claver's Miracle', it was decided to build a large addition to the old building and to revise the structure so that the entrance faced on Biddle Street. Bishop Kenrick laid the cornerstone for this second St. Joseph in 1865. Bueschers of Chicago, famous for their religious art work, were employed to carve an elaborate altar, which is designed as a replica of the Altar of St. Ignatius in the Jesuit Gesu Church in Rome, except that the figure of St. Joseph and the Christ Child are substituted for the figure of St. Ignatius. Known as "The Altar of Answered Prayers" because of its origin, this beautiful work can still be seen at St. Joseph's Shrine, where it serves as the central altar.

In 1880 the church was once again enlarged and remodeled. This work, which included the addition of an elaborate Romanesque Face and twin towers surmounted with delicate cupolas, was completed in 1881. Further alterations had to be made in 1954, for reasons of safety, the beautiful original towers were shortened, and the cupolas replaced by heavier, hexagonal caps.

This is an historic and beautiful Catholic church still operational, so please be respectful when visiting.
Sight description based on Wikipedia.
Shrine of St. Joseph on Map
Walking Tours in Saint Louis, Missouri