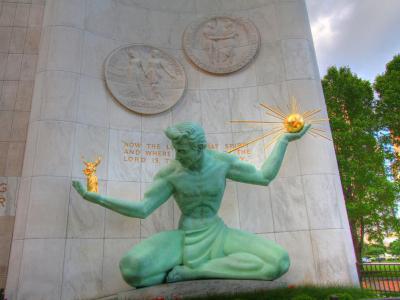 Spirit of Detroit, Detroit
The Spirit of Detroit is one of Detroit's most popular monuments. This Marshall Fredericks-created bronze statue is at the Coleman A. Young Municipal Center. One of the things that makes this statue stand out is its status as the biggest bronze statue cast since the Renaissance. The figure stands 26 feet high.

Two of the highlights of the sculpture include the items held in its hands. The right hand contains figures of a family, symbolizing human interconnectedness. A sphere in the right hand features rays and is of gilt bronze, representing God. An inscription from 2 Corinthians 3:17 is on the wall behind the sculpture.

This monument's importance as a civic symbol is seen with the seals for the City of Detroit and Wayne County; both featured in the wall. One of the highlights is a plaque that describes the symbolism demonstrated through the various parts of the memorial. The importance of faith and family for the community is aptly highlighted.
Walking Tours in Detroit, Michigan