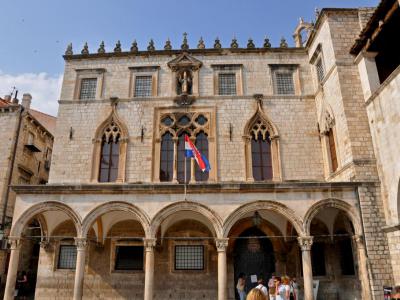 Sponza Palace, Dubrovnik
The Sponza Palace is a 16th century Gothic-Renaissance edifice that has played an important role in the day-to-day business of Dubrovnik over the centuries. Money used to be minted here and the whole area surrounding the palace was crucial to commerce, back in the past.

In fact, there are still reminders of the bonded warehouse that was once stood here. One is a sign that says in essence "the weights are true and accurate, because the Lord watches those who do the weighing to ensure there is no cheating". There are also the names of saints inscribed on the arches of the warehouses.

Today, the palace is used to house a memorial to the Dubrovnik Defenders who died protecting the city in the early 1990s. There is also an archive that details the city's history. The memorial is free to enter; the archive is also open to the public, but only by appointment.

Also, each year this area hosts the opening ceremonies of the Dubrovnik Summer Festival, during which the actors and performers engaged in the theatrical and musical events of the festival are presented to the "dignitaries" of the city (played by actors). They are demanded to perform and entertain the group as an audition of sorts. In the end, the performers are deemed worthy of performing at the festival and allowed to enter the city. As in the old days, the Palace still remains the center of the city's daily activities.
Walking Tours in Dubrovnik, Croatia