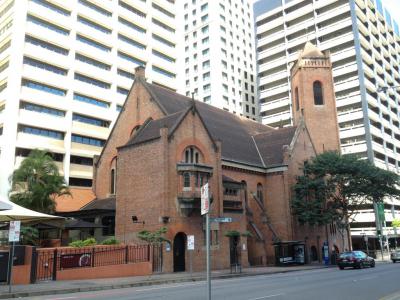 St. Andrews Church, Brisbane
St. Andrews Church is one of Brisbane's grandest churches, built in Romanesque style; it is well known for its grand pipe organ. The church was built in 1905 as Presbyterian, but became a Uniting Church when the non-conformist denominations merged in 1977. Originally the congregation met on Wickham Terrace, but when their space was needed for railways a competition was held for the design of the proposed church on the corner of Ann and Creek Streets. It was won by George Payne who presented plans for a Neo-Romanesque style and bagged the 100 pounds reward. Although it was originally viewed with some trepidation by Brisbane residents who were expecting a grand Gothic design, it is now heavily regarded as the finest example of Neo-Romanesque in the Southern Hemisphere.

In the 1920s the St. Andrews underwent extensive renovations with a more ornate entrance from Ann Street into the sanctuary and from Creek Street into the Hall added. In this same period the stunning stained glass windows of the church were finally completed. The church was most recently refurbished in 1999. One of the main features of the façade is the bell tower, which is still used to call the congregation to church on Sundays.
St. Andrews Church on Map
Walking Tours in Brisbane, Australia