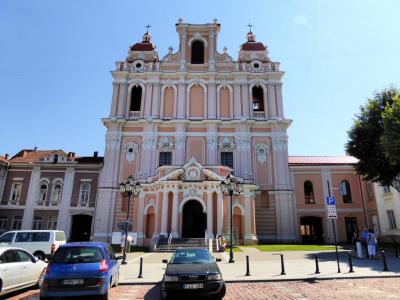 St. Casimir's Church, Vilnius
The Church of St. Casimir in Vilnius is a remarkable example of Baroque architecture, and it holds great cultural and historical significance for the people of Lithuania. The church was built in the early 17th century by the Jesuits, with funding from prominent nobles and Chancellor Lew Sapieha, as a tribute to St. Casimir, a holy prince who is revered as the patron of Lithuania. The church's design was inspired by the Church of Jesus in Rome, and it features a stepped lantern cupola with a crown that is unique to the region.

Over the centuries, the Church of St. Casimir has undergone various transformations, including periods of occupation and damage during wars. In the 18th century, architect Thomas Zebrowski oversaw a reconstruction of the church, which resulted in the addition of the impressive cupola. During the Soviet era, the church was closed down and converted into a Museum of Atheism, and it suffered significant damage. However, in 1991, the church was reconsecrated and returned to the Catholic community.

Today, the Church of St. Casimir continues to hold regular services in Lithuanian and Russian, and it is also renowned for its excellent acoustics and organ concerts featuring internationally renowned musicians. The church's interior boasts three late Baroque artificial marble altars, with paintings by Antanas Kmieliauskas depicting scenes from the life of St. Casimir and other saints.

Overall, the Church of St. Casimir is a significant religious and cultural landmark in Vilnius, and it represents an important piece of Lithuania's history and heritage. Its rich architectural and artistic features, as well as its connection to St. Casimir, make it a must-visit destination for tourists and locals alike.
St. Casimir's Church on Map
Walking Tours in Vilnius, Lithuania