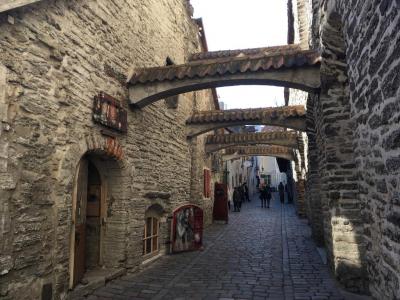 St. Catherine's Passage (Katariina Käik), Tallinn
(must see)
If you want to get a chance to really glimpse what life was like in the Old Town of Tallinn, you will want to visit St. Catherine's Passage. It is located just a short distance from the Town Hall.

The old passage connects Vene and Muurivahe Streets in town. On the northern end of the passage you will find the remnants of St. Catherine's Dominican Monastery Church, which is one of the oldest church in the city. In fact, the passage derives its name from the church. Many people like checking out the old tombstones that are an integral part of the sanctuary there. Many famous Estonians are buried at St. Catherine's cemetery.

The southern end of the passage will take you past some of the best artisan shops in Tallinn. You can watch the artists at work. It's one of the best places to get a memento of your visit to Tallinn. The whole passage is a nice morning's hike for the exercise alone. If you want to stop for a moment, you will want to get a cup of coffee at one of the quaint little cafes that are scattered down the passage.
St. Catherine's Passage (Katariina Käik) on Map
Walking Tours in Tallinn, Estonia