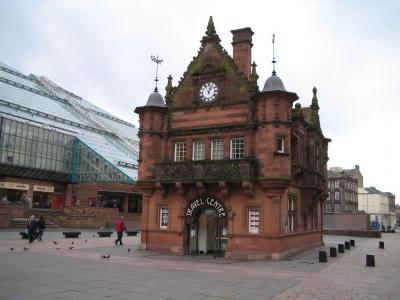 St Enoch Square, Glasgow
South of the intersection of Buchanan Street and Argyle Street is a large open Square called St. Enoch Square. Who is or was Saint Enoch?

A long time ago the square of today was a part of Glasgow Green by the river Clyde. The Green is gone, but the river flows on. The green had a chapel and was the burial site of Saint Thenew aka Saint Enoch, mother of Saint Kentigen, Scotland's patron saint.

After the land had changed hands several times, it passed to the Glasgow City Council. In 1780 the Council replaced the long gone chapel with St. Enoch's Church and St. Enoch's Square came to be. This church was replaced in 1827 by another, designed by David Hamilton. The center of the square was grassed over and used to graze sheep.

By 1860, the church's congregation had moved away from the area. The sheep meadow was paved over and the church was demolished in 1926 and replaced with a bus terminal and a car park. Today, on the site of the former hotel, adjacent to the Square, is St. Enoch Centre. The Centre is the largest glass-covered commercial area in Europe.

Every year from November to December the Square is taken over by the Glasgow Christmas Market. Continental-style bars sell boutique beers and mulled wine in observance of the season.
Walking Tours in Glasgow, Scotland