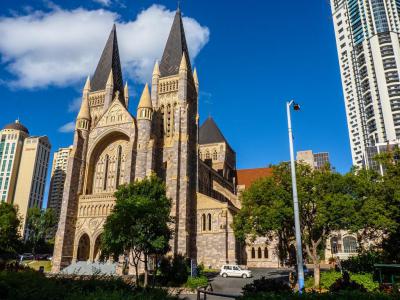 St. John's Cathedral, Brisbane
St. John's Cathedral is one of the most impressive churches in Brisbane and is used for important Anglican occasions such as the ordination of priests or deacons. In addition, it is an important part of the Brisbane arts scene with its own orchestra that holds many events and concerts throughout the year. It is also home to the largest cathedral pipe organ in Australia and has an acclaimed choir. In the tradition of grand medieval cathedrals in Europe, St. John's is the only Australian cathedral that has been completed over more than a century with stonemasons, architects and the diocese working together.

The work has resulted in a stunning Gothic revival cathedral designed by one of England's most prestigious 19th century architects, John Loughborough Pearson. This was to be his final masterpiece and he died just prior to the final plans being approved. The project was taken over by his son Frank. The most recent additions to the cathedral have been the western spires clad in copper, which were hoisted into place in 2008. One of the highlights of the interior of the cathedral are the mosaics brought back from the "Holy Land" by WWI Australian light horsemen: you can see them in front of the cathedral altar.
St. John's Cathedral on Map
Walking Tours in Brisbane, Australia