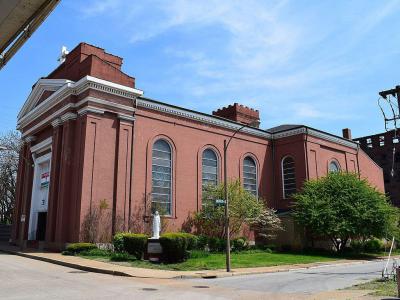 St. Mary of Victories Catholic Church, Saint Louis
The Church of St. Mary of Victories is a historic Roman Catholic church in downtown St. Louis. It was established in 1843, and was the second Catholic Church to be built in the city. It has been listed on the National Register of Historic Places.

The church was built to serve the needs of about 500 families who had emigrated from Germany. It is located in the hub of the pioneer "Chouteau's Landing" District, one of the early commercial and residential neighborhoods where the German immigrants settled in pre-Civil War era St. Louis.

The 1950s saw the departure from the city of a large number of the families whose German ancestors had worshiped there. They were replaced by a large community of refugees from Hungary after World War II and the 1956 Hungarian Uprising. They gave new life to the parish, which became unofficially called the "Hungarian Church".

George I. Barnett and Franz Saler, the distinguished architects of St. Mary's Church, designed it in accordance with that of the early 16th-Century Mannerist style. The nave is rectangular and, with the transept, forms a cross with the sanctuary at its head. The choir loft is located on the second tier of the two-tier balcony at the rear of the church. Its ornate wooden-carved organ case and stenciled display pipes are among the oldest in St. Louis.

The interior of St. Mary of Victories is also remarkable as the first interior in a St. Louis church whose design was based upon liturgical studies. It was developed and constructed by Max Schneiderhahn, the city's first professional church artist. Himself a German immigrant, Schneiderhahn studied at a German university and two monasteries, bringing the craftsmanship tradition of liturgical art to the St. Louis area. The altars, statuary, steepled baptismal font, communion rail, carvings and frescoes were all conceived and executed by Schneiderhahn, who also painted the Stations of the Cross.
Sight description based on Wikipedia.
St. Mary of Victories Catholic Church on Map
Walking Tours in Saint Louis, Missouri