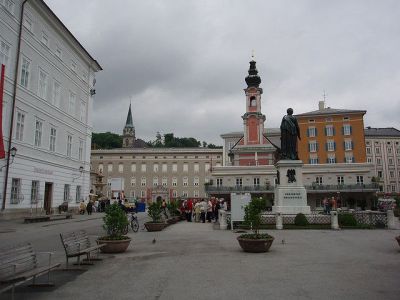 St. Michael's Church, Salzburg
The St. Michael's Church is a small pink church located between Residenzplatz and Waggplatz in Salzburg. It is the oldest parish church of the city.

Records show that the St. Michaels Church existed back in the year 800. At the time, it was the principal place of worship for all sections of society. The St. Peters monastery maintained the church and it suffered damage and was rebuilt after the fires that ravaged the city in 823 and 1167. It remained the main parish church and palace chapel until 1223 when it was replaced by the Franciscan Church. Although it lost its position as parish church and its former significance, St. Michaels church remains a functioning house of worship till today.

The St. Michael's Church has a rococo architectural design. It has two floors. The upper floor was reserved for the emperor and other high officials with easy access from the palace while the lower floor was accessible from the market square for the lower classes. The structure was remodeled between 1767 and 1776 with the addition of a baroque onion dome and an ornamental screen by Philpp Hinterseer. The main altar has a beautiful painting of St. Michael killing Lucifer and the side altars have paintings of the two archangels, Gabriel and Raphael.
St. Michael's Church on Map
Walking Tours in Salzburg, Austria