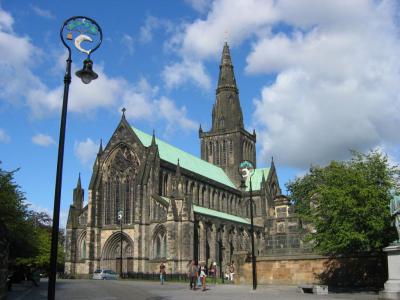 St Mungo's Cathedral, Glasgow
(must see)
St Mungo's Cathedral, or simply Glasgow Cathedral, is one of the few churches to have survived the Reformation. The setting for numerous literary works over the ages, its ornate construction and rich history dating from the 12th century provide hours of learning and exploration.

The ground on which the cathedral stands is steeped in history; it was first blessed by Saint Ninian over 1600 years ago and St Mungo, the son of a pagan King of Lothian, built his church here in the 7th century. You can see his tomb under the main altar, in the crypt.

The original church was wooden and was mostly destroyed by fire. Building began on the "new" church during the 12th century, in the Gothic style. It once had towers at its west end, but these were removed during renovations in the 18th century since there wasn't enough money to replace them.

Inside the cathedral, you can admire the ancient "rood screen", an ornate partition between the chancel and the nave. Rood screens are rare in Scottish churches and this one is much prized. In 1999 the magnificent Millennium Window was installed in the north wall of the nave. There are several side chapels, including the Chapel of St John the Baptist where you can see St Mungo's Well.

During the Reformation, when many churches were sacked and torn down, the people of Glasgow took up arms to defend the cathedral. In 1583 the Town Council agreed to oversee the building and pay for its upkeep. It stands today as a reminder of the devotion and determination of the people who worship in it.

Tip:
Admission is free, and it's highly recommended that you visit the interior. After that, go next door to the Museum of Religious Life and Art, across the road to Provand's Lordship, and up the hill to the Necropolis (to get beautiful views of the Cathedral and the city), and you'll see the original medieval heart of Glasgow, and experience attractions for free in one day.
St Mungo's Cathedral on Map
Walking Tours in Glasgow, Scotland