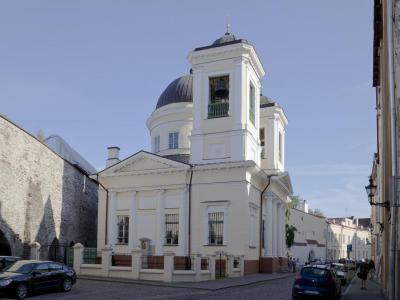 St. Nicholas' Orthodox Church, Tallinn
St. Nicholas Church is a medieval former church in Tallinn, Estonia. It was dedicated to Saint Nicholas, the patron of the fishermen and sailors. Originally built in the 13th century, it was partially destroyed in the Soviet bombing of Tallinn in World War II. It has since been restored and today houses the Niguliste Museum, a branch of the Art Museum of Estonia, focusing mainly on ecclesiastical art from the Middle Ages onward.

The church was founded and built around 1230–1275 by Westphalian merchants, who came from Gotland in the 13th century. While the city was still unfortified, the church had heavy bars for closing the entrances, loopholes and hiding places for refugees. When the fortifications around Tallinn were finished in the 14th century (the town wall enclosed the church and the settlement in 1310), St. Nicholas Church lost its defensive function and became a typical medieval parish church.

In 1405–1420, St. Nicholas Church obtained its current appearance, when the central aisle received a clerestory above the side aisles in the form known in architecture as a basilica. In 1515 the tower was built higher and covered with late-Gothic spire. In late 17th century the tower was strengthened and secured. The spire was replaced with a Baroque spire with airy galleries, which was raised higher stage by stage through several centuries. The tower is now 105 metres (344.5 ft) high.

Saint Nicholas was the only church in Tallinn which remained untouched by iconoclasm brought by the Protestant Reformation in 1523. The head of the congregation poured molten lead into the locks of the church, and the raging hordes could not get in.
Sight description based on Wikipedia.
St. Nicholas' Orthodox Church on Map
Walking Tours in Tallinn, Estonia