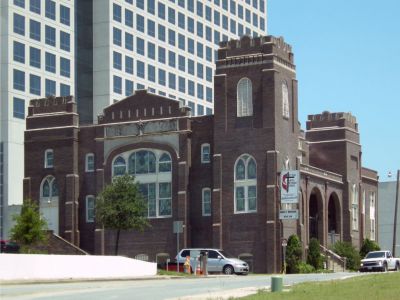 St. Paul United Methodist Church, Dallas
St. Paul United Methodist Church is a true gem of the Art District in Dallas, Texas. It was organized by freed slaves in the year 1873. As such, it is one of the oldest African American churches in all of Texas. It is also the only such church in downtown Dallas.

From 1874-1875, the church also served as a school for African American children. The current church building was designed by Sidney Pitman, Dallas' first African American architect, and it was completed by 1922. The building's patchwork of colored bricks is still visible. There are thirty-five beautiful stained glass windows, which are all original and were donated by some of Dallas' first affluent African Americans.

St. Paul was designated as an historic landmark by City of Dallas in 1982. In 2013, the church was approved as Texas Historical Landmark. In 2016, St. Paul was named to the national registry of historic sites. There was a recent effort to renovate this old church, which now is finished. It was quite the undertaking, as walls had to be stabilized and restored. An elevator was also added to the church for the handicapped and elderly. The church can be visited most any day of the week, but they also have worship service on Sundays at 10:45 a.m.
St. Paul United Methodist Church on Map
Walking Tours in Dallas, Texas