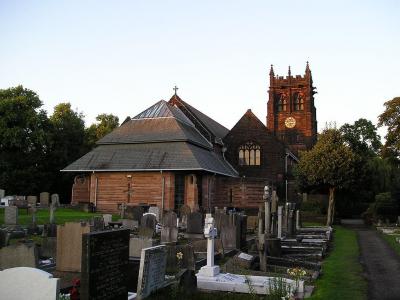 St. Peter's Church, Liverpool
St. Peter's Church in Woolton, to the east of downtown Liverpool, is one of the city's largest parish churches. A neo-Gothic building first opened in 1887, it is most famous for its connections with the Beatles. A village chapel in the 19th century, the church built a new home for itself following Woolton's expansion into a large suburb of Liverpool. It has a 90ft high bell tower which is the highest point in the entire city.

The church is famous as the first meeting place of John Lennon and Paul McCartney. Lennon was performing at the church hall on a July evening in 1957 with his skiffle group The Quarrymen. He was introduced to McCartney during an interval, and soon afterwards asked him to join the band – which would eventually become the four-piece Beatles. Lennon and McCartney went on to write numerous No.1 hits, and are almost indisputably seen as the greatest songwriting partnership in the history of rock music.

Lennon also sang occasionally in the church choir. His aunt was a regular attendee here, and his uncle, George Smith, is buried in the churchyard. The cemetery also houses the grave of one Eleanor Rigby, a scullery maid who died in 1939, and who is believed to be the inspiration for the song of the same name.
St. Peter's Church on Map
Walking Tours in Liverpool, England