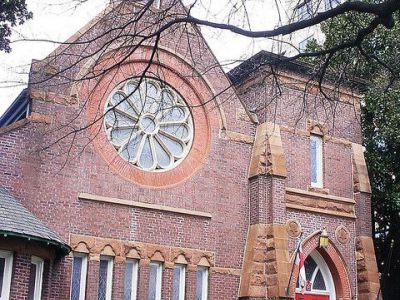 St. Peters Episcopal Church, Charlotte
St. Peter's Episcopal Church is located in Charlotte's Historic Fourth Ward near Discovery Place. It is an excellent place to stop to admire the art and architecture of the building while on a walking tour of the city.

St. Peter's was the first Episcopal Church in the city. Though established as a church in 1834, it wasn't recognized as a parish in the Diocese of North Carolina until a decade later. The church building was finished more than 50 years after this recognition.

Construction of the church began in 1893 under the direction of Bishop Joseph Blount Cheshire, Jr. It was completed in 1895, and then expanded in 1912 to add the Parish House and chapel. Renovations and more additions have taken place over the years with the most recent being in 2010.

The church building is open daily to allow visitors and residents a place of sanctuary. Visitors are also welcome to attend church services on Sundays.
St. Peters Episcopal Church on Map
Walking Tours in Charlotte, North Carolina