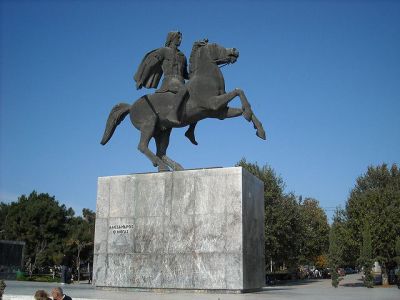 Statue of Alexander the Great, Thessaloniki
The statue of Alexander the Great shows Alexander the Great riding his horse Bucephalus. The monument is six meters (20 feet) tall. Its height, including the pedestal, is 11 meters (36 feet) tall. The bronze statue was crafted in 1973 by sculptor Evangelos Moustakas.

Alexander the Great was one of the world's most influential politicians and historical figures. Alexander the Great was one of Aristotle's students and became a Macedonian Emperor at 20. He conquered large swaths of land, including Egypt, Palestine, Syria, Pakistan, Iran, and Turkey.

Alexander the Great was undefeated in battle. But, unusually, he didn't seek to change the beliefs or customs of the territories he conquered.

The statue shows Alexander looking east while his faithful horse Bucephalus seems ready to fight. Behind the statue, a low wall depicts the Battle of Issus, which happened in 333 BC. During the battle, Alexander the Great defeated the Persian king Darius III. Other features show shields depicting Alexander's army, a snake, a lion, an ox, a falcon, and Gorgon Medusa.

Alexander the Great was incredibly influential in Macedonia and the ancient world. Thessaloniki was named after Alexander the Great's half-sister, Thessalonike.

The statue overlooks Thessaloniki's waterfront and is part of the Nea Paralia seaside park.
Statue of Alexander the Great on Map
Walking Tours in Thessaloniki, Greece