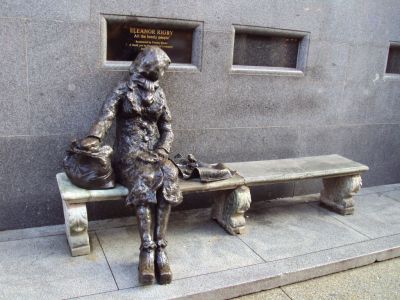 Statue of Eleanor Rigby, Liverpool
The Statue of Eleanor Rigby can be found on the pavement of Stanley Street, a couple of blocks from the Cavern Club on Mathew Street. A sculpture of an apparently middle aged woman, wearing a head scarf and holding a hand bag, it is placed on a bench with a space for visitors to sit next to it.

Dedicated to "all the lonely people" of Liverpool, it was crafted, remarkably enough, by English entertainer Tommy Steele, who had a lesser known talent for sculpture. London-based performer Steele donated the statue to Liverpool out of fondness for performing in the city. He claims to have placed a number of items inside the sculpture, including a four leafed clover, a football sock and a page of the Bible.

The statue is of course a tribute to the Beatles' hit song 'Eleanor Rigby'. Released in 1966, it was a No.1 hit in the UK. The title character is portrayed as a melancholy soul, reflected in her solitary, bedraggled appearance in Steele's sculpture. Eleanor Rigby is a fictional character, though the name has been found on a gravestone in the Liverpool suburb of Woolton. The 'real' Eleanor Rigby died in 1939, and her tomb has become an attraction for many Beatles fans visiting the city.
Statue of Eleanor Rigby on Map
Walking Tours in Liverpool, England