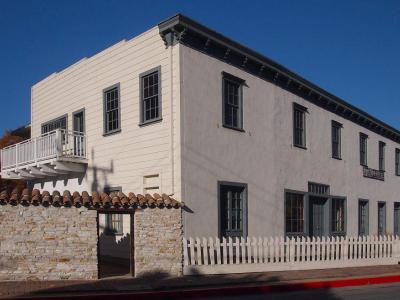 Stevenson House, Monterey
In 1879, Scottish novelist Robert Louis Stevenson stayed at the French Hotel, now called the Stevenson House after him and dedicated to his memory. Stevenson lived there while recovering his health as he was crossing the United States to court his future wife Fanny Osbourne. While there, he often dined "on the cuff," as he said, at a nearby restaurant run by Frenchman Jules Simoneau which stood at what is now Simoneau Plaza.

Several years later, Stevenson sent Simoneau an inscribed copy of his novel Strange Case of Dr Jekyll and Mr Hyde (1886), writing that it would be a stranger case still if Robert Louis Stevenson ever forgot Jules Simoneau. Stevenson wrote some articles for the local Monterey newspaper, including one that beautifully evoked "the Old Pacific Capital."

The Stevenson House features a bas relief depicting the sickly author writing in bed. Today the building has been designated as a California Historical Landmark.
Walking Tours in Monterey, California