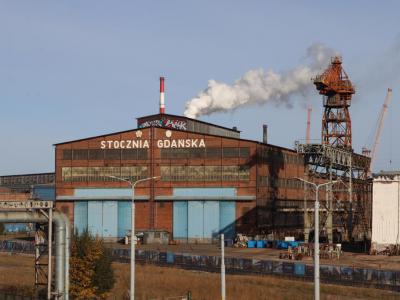 Stocznia Gdańska (Gdańsk Shipyard), Gdansk
The Gdańsk Shipyard (Polish: Stocznia Gdańska) is one of the largest shipyards in the world. It gained international fame in September 1980 when the Solidarity (Solidarność) movement was founded here, marking the outset of organized resistance to Communist dictatorship in Eastern Europe.

That year Gdańsk saw a strike by 17,000 ship builders, led by shipyard electrician Lech Wałęsa, which resulted in recognition of Solidarity as the first non-Communist trade union in the Soviet Bloc. The move was one of the first successful steps in a campaign of civil resistance that contributed to the eventual collapse of Communism across the Eastern Bloc.

The shipyard itself was founded in 1946 in the place of the former German shipyards, Schichau-Werft and Danziger Werft, both considerably damaged in the Second World War. During the time of the People's Republic of Poland, the complex was known as the Gdańsk Shipyard and Vladimir Lenin Shipyard in Gdańsk (1967–89). In 1975 it was also named "Westerplatte Heroes" commemorating The Battle of Westerplatte, the first battle of the German invasion of Poland, marking the start of World War II in Europe.

The first launches at the shipyard took place in 1948 and included smack and rescue boats for the Gdańsk Institute of Sea Fishing, as well as SS Sołdek, the first seagoing vessel made in Poland (currently used as a museum ship). In 1949 the production included fishing lugo-trawlers, and after 1955, the shipyard built vessels – mainly troop landing craft, hydrographic, rescue, training and torpedo boats – for the navies of Poland, USSR, Bulgaria, Yugoslavia and Eastern Germany.
Sight description based on Wikipedia.
Stocznia Gdańska (Gdańsk Shipyard) on Map
Walking Tours in Gdansk, Poland