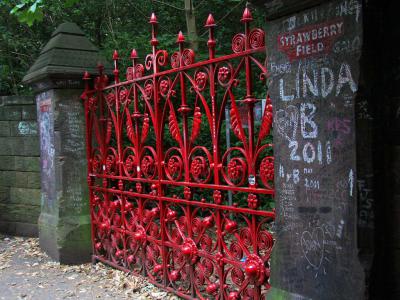 Strawberry Field, Liverpool
Strawberry Field is a former Salvation Army children's home in the Liverpool suburb of Woolton, situated on Beaconsfield Road, a short walk from John Lennon's childhood home. The building that existed during Lennon's time in Liverpool opened in 1936, and was demolished in 1973 due to structural problems to be replaced with purpose-built units. The name of the children's home was used by Lennon in the single 'Strawberry Fields Forever'. Released in 1967, it was the first song to be recorded for "Sergeant Pepper's Lonely Hearts Club Band", considered by many to be the greatest album of all time. The song is regularly voted as one of the band's five best.

The song does not directly reference the children's home, but its hazy, summery melody is believed to be influenced by the afternoons spent by young Lennon in woodland behind the Strawberry Field grounds. Lennon also attended the home's summer fête with his aunt each year; she claimed that he would listen to the Salvation Army marching band warming up from his bedroom window.

In time, the old red-painted entrance gates on Beaconsfield Road became a place of pilgrimage for Beatles fans. Strawberry Field is opened to the public. There is an exhibition on its history, plus a café and a shop. It is free to visit the Strawberry Field garden, care and shop. There is a small fee for viewing the exhibition.

The gates were stolen on 11 May 2000, allegedly by two men in a transit van, and were sold to an unsuspecting antiques dealer who never realized they were the actual gates from Strawberry Field. He returned them to the police upon request, and they now stand in the grounds of Strawberry Field.

Opening times:
Summer (1st April to 31st October)
Daily 09:00-19.00 (last admission 18:00)
Winter (1st November to 31st March)
Daily 09:30-17:00 (last admission 16:00)

Why You Should Visit:
This is one of the few places associated with the Beatles' childhood that you can visit for free. Do it as part of the whole Beatles experience.

Tip:
Strawberry Field operates a minibus to take people from Albert Dock in the city center to Strawberry Field and back. The minibus leaves Royal Albert Dock at the following times: 10:00, 11:15, 13:15, 14:15, 15:15. The last bus returning to Royal Albert Dock leaves Strawberry Field at 17:00.
Walking Tours in Liverpool, England