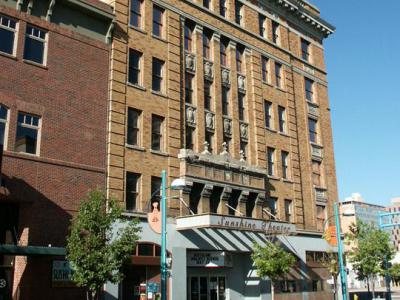 Sunshine Building, Albuquerque
The Sunshine Building is a historic six-story building in downtown Albuquerque, New Mexico. It was built in 1924 by local theater owner Joseph Barnett and houses the Sunshine Theater as well as commercial space and offices. The Sunshine operated primarily as a movie theater until the 1980s, though it was also equipped for Vaudeville shows and other live performances. Since 1990 it has operated as a live music venue, hosting many notable acts. The building was listed on the New Mexico State Register of Cultural Properties in 1985 and is also an Albuquerque City Landmark.

The building was designed by the El Paso firm of Trost & Trost and is of reinforced concrete construction with a facade of yellow brick. The architectural style is Renaissance Revival. The building was known for having what was believed to be the last manually operated elevator in New Mexico.

The TV Show In Plain Sight filmed the exterior of this location, as the fictional office of the US Marshals' Witness Protection Service.

The Sunshine Theater, which occupies a significant portion of the building, operated as a movie theater from 1924 until the 1980s and has since been remodeled into a popular live music venue. The Sunshine Theater has hosted a number of notable acts such as The Strokes, Snoop Dogg, Deltron 3030, Stone Temple Pilots, The Smashing Pumpkins, Queens of the Stone Age, The Dead Weather, Arctic Monkeys, Modest Mouse, Rancid, Coheed and Cambria, Awolnation, Cannibal Corpse, Ratatat, Social Distortion, Pennywise, Hollywood Undead, Deftones, Nightwish, Melanie Martinez, Damian Marley and Deadmau5 among others.

The Sunshine Theater's set up is an open floor, a large balcony, and a bar that seats a 21 and older audience, in all they accommodate about 1,000 people. The theater is the most popular venue in the Albuquerque metro area to accommodate smaller but still notable acts, many with five or more shows in one month.
Sight description based on wikipedia
Walking Tours in Albuquerque, New Mexico