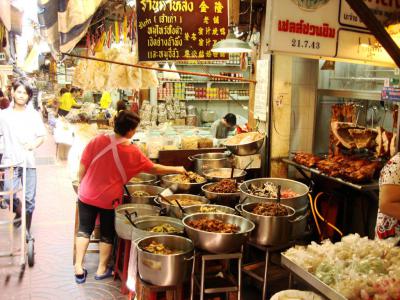 Talat Kao Market, Bangkok
This Thai-Chinese trading community is Bangkok's oldest market, continuously operating since the beginning of the King Rama V reign (1868 – 1910). The wooden houses lining the alley vividly reflect the old times.

The name originates from a 9-room house that was reportedly built by certain Mr. Hong who moved here after selling off his rafting boat parking and established a river-based trading post in the area. He called the market "Talat Kao Hong" after his house's original name.

Not long after, he built a 5-story watchtower – 4 meters wide by 4 meters long – designated to prevent theft and killings in the neighborhood, widespread at the time. During Work World II, the tower served as an observation post against enemy bombers, signaling air-raid alarms. Presently, this is one of the key local landmarks.

The alley-way is quite small – not longer than two blocks; and narrow – in some places there is barely enough space for two people to squeeze past one another, and that's when no one stops to make a purchase. Add to this an occasional motor bike making deliveries and it can get very cramped, particularly on holidays; so one should always be prepared for a bit of jostling.

The market is full of fresh seafood of all varieties, including fish, shrimp, prawns, and some things that you might not recognize, such as sea cucumbers. There's also many vendors with dried foods such as red dates, dried persimmons, dried fish and dried fish stomach. Of course, there is also prepared food: from the delectable kanom krok (grilled coconut-rice hotcakes) to "dim sum" (tender bite-sized morsels), curries, traditional noodles topped with sauce, and other authentic Thai or Chinese dishes and desserts like Chan Ub or Pia.

And since it's a Chinese market, you will find succulent roast duck and duck noodles too, plus, on festive occasions, whole roast pigs being sold.
Walking Tours in Bangkok, Thailand
Useful Travel Guides for Planning Your Trip
--- Top 15 Things to Buy in Bangkok
Well-made, local products not only remind people of the trip they've had, but also make great gifts to bring home to family and friends. Following is the list of original and representative of Bangkok local specialties that you might wish to consider as a memorable... 7 Places in Bangkok for Superb Street Food
Eating is huge in Bangkok, and luckily for the famished, you won't be that way for long, regardless of the hour. You can find conglomerations of vendors selling five-star fast food (in the you-won't-have-to-wait-long-to-enjoy-it sense, not McDonald's style) for under 100 baht (roughly...