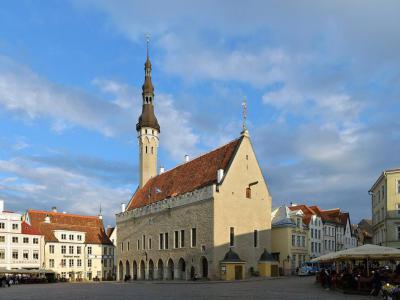 Tallinna Raekoda (Tallinn Town Hall), Tallinn
(must see)
Tallinn Town Hall is the oldest and only preserved Gothic-style city hall in North Europe. In 2005, the Town Hall was awarded second prize for conservation of Architectural Heritage. Parts of the town hall date to the 13th century. The Town Hall was completed in 1404 and was the center of the town's government for almost 700 years, until 1970. Throughout the centuries, several additions, renovations, and architectural changes have been made.

Tallinn Town Hall was built with limestone. Traditional clay tiles adorn the exterior, which features a 64 meter (210 feet) tall spire that's visible from all over town. Gargoyles decorate the main facade. The Town Hall has an arcade formed with nine arcs and eight pillars. In inclement weather, merchants could gather under the shelter of the arcade. Criminals would be chained to one of the pillars so that townspeople could mock them.

The Town Hall's interior features attractive Gothic arches and works of art spanning the history of Tallinn. Benches were crafted in the 14th and 15th centuries. The largest hall in Town Hall is the Citizens Hall. It can hold up to 100 people and is often used for musical performances.

The Council Chamber features intricate wood carvings dating to 1375. Copies of 16th-century tapestries hang on interior walls. The original tapestries are on display in the Tallinn City Museum.

The Old Thomas weather vane is one of the town's most famous landmarks. The weather vane depicts a soldier who protects the city. Old Thomas was originally placed in 1530. Today, a copy stands on top of the town hall's spire, while the 1530 original is on display in the town hall's basement.

Tallinn regularly hosts concerts and receptions in this historic building. For a great view of the city, bring your camera and climb the tower.
Tallinna Raekoda (Tallinn Town Hall) on Map
Walking Tours in Tallinn, Estonia