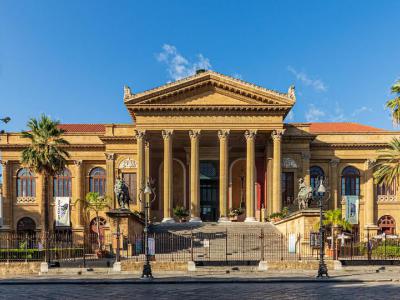 Teatro Massimo (Massimo Theatre), Palermo
(must see)
The Massimo Theatre is an opera house and company located on Verdi Square. It is the biggest opera house in Italy and the third largest in Europe.

The Palermo Council initiated an international competition to design and build an opera house in 1864. The idea was to promote the status of a new unified Italy. Giovan Basile designed the theatre. After he died in 1891, the work was taken over by his son, Ernesto Basile.

Basile was a fan of classical Sicilian architecture. He used a neoclassical theme borrowed from the old Greek temples of Agrigento. He also used a late-Renaissance style. The auditorium seats almost 1,400 people. It has seven tiers of box seating. The stage is inclined and the seating rises up from the stage in a general horseshoe shape.

In 1974 the theatre was closed for renovations. Costs, corruption and politics kept it closed for 23 years. The opera season opened again in 1998. Corruption and politics continue to disrupt the functioning of the house but new management promises to keep it on track.
Teatro Massimo (Massimo Theatre) on Map
Walking Tours in Palermo, Italy