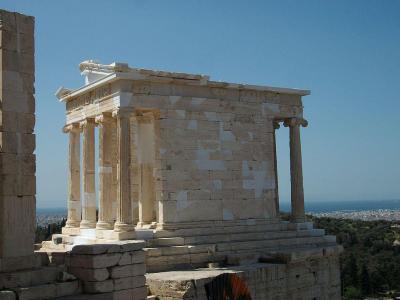 Temple of Athena Nike, Athens
(must see)
Measuring a mere 11 feet (3.3 meters) in height, this small, jewelbox-like temple often escapes notice amid the grandeur of the Acropolis. Positioned atop the rock wall to the right of the Propylaea Gate, it comes into view as you enter the Acropolis site from the upper right.

Despite being destroyed twice in its history, it has been meticulously reconstructed since the turn of the millennium, using original masonry fragments. As a result, you can now appreciate its immaculate symmetrical design, featuring four Ionic columns at each end, much as it appeared in 420 BC when Athenians gathered here to commemorate their victories over the Persians (the temple's frieze showcases scenes from the Battle of Plataea in 479 BC).

Designed by Kallikrates, the temple served dual roles as an observation point and an ancient shrine dedicated to the goddess of Victory, Athena Nike. A remarkable sculpture of Athena Nike graces the balustrade of the temple. Unlike typical statues, which usually depict the goddess with wings, this one at the temple is wingless, symbolizing that victory would never desert the city.

Legend has it that the temple's location marks the spot where King Aegeus awaited his son, Theseus, upon his return from his mission to Crete to vanquish the Minotaur. Theseus had promised to swap his ships' black sails for white upon his return but forgot his pledge. When the king saw the black sails, he assumed his son was dead and plunged into the sea, which now bears his name—the Aegean Sea.
Temple of Athena Nike on Map
Walking Tours in Athens, Greece
Useful Travel Guides for Planning Your Trip
---