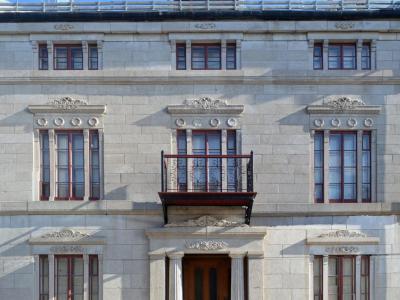 Tetu House (Maison Tetu), Quebec City
The Maison Têtu is a particularly elaborate example of the many large, urban town houses built for prosperous Canadian merchants during the mid-19th century. It was designed in 1852 by Charles Baillairgé, a member of a celebrated family of architects who, beginning in the 18th century, left an important mark on the architecture of Québec City and its surroundings.

The house's Greek Revival facade, a masterpiece of the genre, is tastefully decorated with palmettes and discreet laurel wreaths. The main floor has huge bay windows that open onto a single expansive living room in the London style. From the time of its construction, the house incorporated all the modern amenities: central heating, hot running water and multiple bathrooms. Antoine de Saint-Exupéry, author of "The Little Prince", was hosted here by the De Koninck family in the early 1940s.
Tetu House (Maison Tetu) on Map
Walking Tours in Quebec City, Quebec