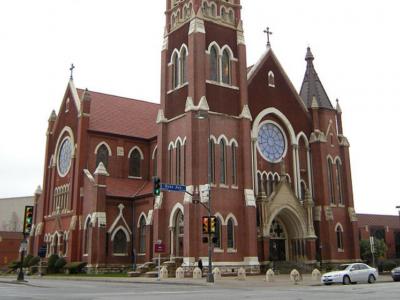 The Cathedral Shrine of the Virgin of Guadalupe, Dallas
The Cathedral Shrine is one of the largest churches in Dallas, with over 17,000 families. It is also one of the most historic churches in town, as this was the first Catholic community formed in the area. It is also the Mother Church for the local diocese.

The local worshiping community was founded in 1869. It was called the Sacred Heart Church then. They built their first building in 1872. In 1890, the church was reformed into the Cathedral for the area, after the Dallas area became a diocese. The overall architectural look of the current building is gothic, and is done in a beautiful red brick. The sanctuary is done in white walls and is trimmed in oak.

This congregation is also a great promoter of the arts in the area. They hold events for the Arts District many times each year. They also sponsor the Greater Children's Chorus of Dallas, which is a sacred choir. It is located in the same area is the Sculpture Garden, Dallas Symphony, and the Dallas Museum of Art.
The Cathedral Shrine of the Virgin of Guadalupe on Map
Walking Tours in Dallas, Texas