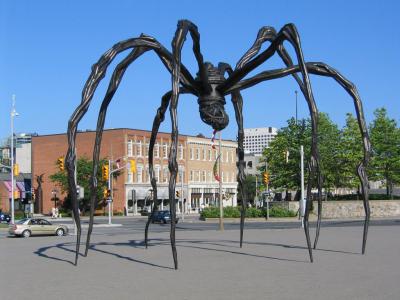 The Maman Statue, Ottawa
Maman is an impressive sculpture created by Louise Bourgeois, a renowned artist. Made from bronze, stainless steel, and marble, the artwork represents a spider and is considered one of the largest sculptures in the world. Its towering size measures over 30 feet in height and more than 33 feet in width. The sculpture features a sac containing 32 marble eggs, while its abdomen and thorax are crafted from ribbed bronze.

The title, "Maman," is derived from the familiar French word for "Mother" and shares similarities with the English word "Mummy." Louise Bourgeois created this sculpture in 1999 as part of The Unilever Series (2000), her inaugural commission for the Turbine Hall at London's Tate Modern. The original piece was made of steel, and subsequently, six additional castings were produced in bronze. Bourgeois selected the Modern Art Foundry for the casting process due to its reputation and expertise.

The sculpture of Maman builds upon Bourgeois' longstanding fascination with arachnids, which she first explored in a small ink and charcoal drawing in 1947. This theme continued with her 1996 sculpture titled "Spider." Through the artwork, Bourgeois incorporates metaphors of spinning, weaving, nurturing, and protection, symbolizing the strength of her mother. Josephine, Bourgeois' mother, was a skilled tapestry repairer in her father's textile restoration workshop in Paris. When Bourgeois was twenty-one years old, her mother passed away from an unknown illness.
Walking Tours in Ottawa, Canada