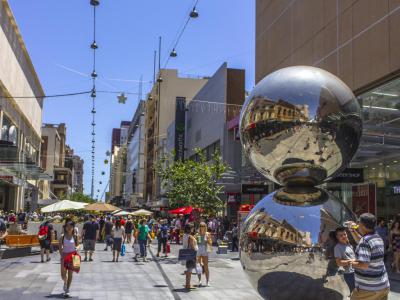 The Spheres Sculpture, Adelaide
Ever since opening in 1977, The Spheres sculpture on Rundle Mall in Adelaide has been a popular meeting point. Donated to the City by the Hindmarsh Building Society to commemorate the then newly-opened thoroughfare, and also to mark their own centenary that year, it remains perhaps the most successful example of public artwork in Adelaide, so seamlessly integrated into people's perception of a public place that it is rarely associated with the notion of 'abstract artwork'.

Originally dubbed 'On Further Reflection', over the following years this piece of art has become fondly known by locals as the "Mall's Balls". People habitually say, "I'll meet you at the Balls". The image of the two connected spheres has also graced numerous T-shirts, key rings and posters, sometimes with the phrase "Adelaide's Got Balls".

The two larger than life (4-metre/13-ft tall) stainless steel balls measure 2.15 metres (7 ft 1 in) in diameter each. Balanced one on top of the other, The Spheres create elongated and distorted reflections of the surrounding streetscape, providing backdrop for countless tourist photographs.

The iconic landmark was created by Bert Flugelman, the Vienna-born artist who migrated to Australia at a young age and eventually became Head of Sculpture at the South Australian School of Art between 1972 and 1983. Of all Flugelman's creations, The Spheres is the most prominent reminder of his decade in Adelaide.

To create this massive piece, Flugelman worked with the local family-run firm Brister & Co. The spheres were made in halves, before being welded together and panel beated. There was some controversy in January 2013 when it was suggested that the sculpture be moved as part of the Rundle Mall upgrade. Fortunately, the Malls Balls were not moved and still remain the meeting place for many Adelaide shoppers.
Sight description based on Wikipedia.
The Spheres Sculpture on Map
Walking Tours in Adelaide, Australia