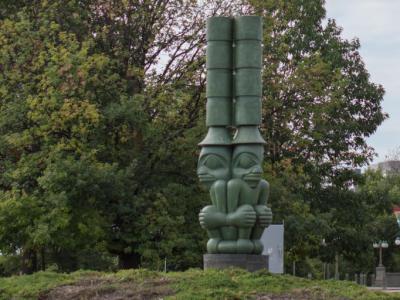 The Three Watchmen, Ottawa
The Three Watchmen is a 16 foot tall bronze sculpture that is located at the intersection of Murray Street, Saint Patrick Street and Mackenzie Avenue. The sculpture, which is one of the many public art installations in the Byward Market neighborhood, is located near the National Gallery of Canada.

The Haida are indigenous to Canada who are notably from the Haida Gwaii off the coast of British Columbia. Haida artist and hereditary Chief of the Staast'as Eagle Clan, James Hart, designed the sculpture in 2003. It was cast in bronze in 2010 and placed in its home that overlooks the National Gallery, the Notre Dame Cathedral Basilica and a number of government buildings.

The sculpture is an example of the artwork of the Haida who use totems to protect their homes. It is meant to represent figures that watch for physical and spiritual threats. Any visitor walking through the area can stop to admire the Three Watchmen. Though it is poised at a busy intersection, there is a walking path that allows visitors to get a much closer view.
The Three Watchmen on Map
Walking Tours in Ottawa, Canada