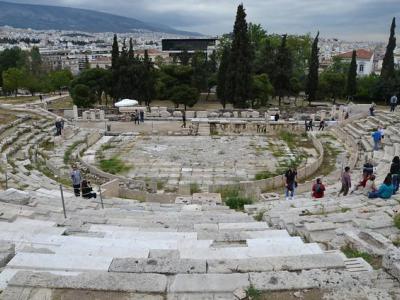 Theater of Dionysus, Athens
(must see)
Carved into the cliff face of the Acropolis, the Theatre of Dionysos holds immense cultural and historical importance, as it was the birthplace of Greek drama and a central venue for performances in ancient Athens, besides being the first stone-constructed theater. Its location was deliberately chosen near the temple of Dionysus, the God of wine and patron of drama. During the annual Dionysia festival, renowned playwrights such as Aeschylus, Sophocles, and Euripides had their works performed here as part of dramatic contests.

Initially a modest wooden and earthen structure, the theater was later rebuilt in stone by an Athenian statesman in the 4th century BC; however, the ruins visible today are partly remnants of a much larger edifice built by the Romans, which seated 17,000 spectators. The Romans repurposed it as a gladiatorial arena and added a marble balustrade with metal railings to enhance spectator safety.

Above the theater, a cave dedicated to the goddess Artemis holds significance. In the Byzantine era, this cave was transformed into a chapel dedicated to Our Lady of the Cave ("Panagía i Spiliótissa") and served as a place where mothers brought their ailing children. Nearby, two sizeable Corinthian columns mark the remnants of "choregic" monuments erected to celebrate a benefactor's team winning the drama festival. To the west lies the Sanctuary of Asclepius, son of Apollo, founded in 420 BC and dedicated to the god of healing.

Why You Should Visit:
Fantastic opportunity for theater enthusiasts, students, and children to gain insight into what one of the most significant and ancient theaters in the Western world must have been like. Although you can't explore every nook and cranny, you can walk around the stage's perimeter and sit in the seats, which is a great way to make history come alive.
Theater of Dionysus on Map
Walking Tours in Athens, Greece
Useful Travel Guides for Planning Your Trip
---