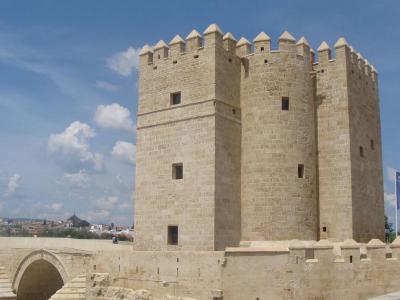 Torre De Calahorra (Calahorra Tower), Cordoba
At the south end of the Roman Bridge of Cordoba, on the bank of the Guadalquivir River, is the formidable presence of the Calahorra Tower (Torre De Calahorra). It is a fortified gate built by the Almohad Moors to protect the old Roman Bridge and the approaches to the center of Cordoba in the 12th century.

The Tower initially consisted of two constructions joined by an archway between them. The archway was redone as a cylindrical tower that connects the original two box-like structures. The fortified gate was extensively rebuilt in 1369 by King Enrique III of Castile. Enrique feared an attack from his notorious brother, Pedro the Cruel.

The Calahorra Tower has eight rooms and houses the Al-Andalus Living Museum, operated by the Paradigma Cordoba Foundation. The museum features educational audio-visual installations showing life in Cordoba between the 9th-13th centuries, at a time of brilliant cultural, artistic, and scientific achievement. It shows how the three cultures of Cordoba, Christianity, Islam, and Judaism, existed side by side.

Visitors are allowed to explore the crenelated roof of the Tower, where they can enjoy an unforgettable view of the Mosque-Cathedral and the Old City across the river.
Torre De Calahorra (Calahorra Tower) on Map
Walking Tours in Cordoba, Spain