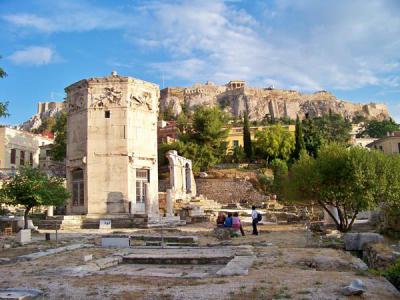 Tower of the Winds, Athens
This beautiful octagonal marble tower, standing 12 meters tall, functioned as a horologion or "timepiece", and is considered the world's first meteorological station. Featuring a combination of sundials, a water clock, and a wind vane, the monument is also unofficially called Aerides ("Winds"). It was supposedly built by Andronicus of Cyrrhus around 50 BC, but according to other sources, might have been constructed in the 2nd century BC before the rest of the forum.

The eight sundials can be seen below the frieze depicting the eight wind deities—Boreas (N), Kaikias (NE), Apeliotes (E), Eurus (SE), Notus (S), Lips (SW), Zephyrus (W), and Skiron (NW). In its interior, there used to be a complicated water clock (or clepsydra), driven by water coming down from the Acropolis. Recent research has shown that the considerable height of the tower was motivated by the intention to place the sundials and the wind-vane at a visible height on the Agora, effectively making it an early example of a clocktower.

In early Christian times, the building was used as the bell-tower of an Eastern Orthodox church. Under Ottoman rule, it became a tekke and was used by whirling dervishes to perform their meditative dance. At that time it was buried up to half its height, and traces of this can be observed in the interior, where Turkish inscriptions may be found on the walls.

Entry is included in the price of a visit to the Roman Agora or otherwise included with the Acropolis combination ticket.
Tower of the Winds on Map
Walking Tours in Athens, Greece
Useful Travel Guides for Planning Your Trip
---