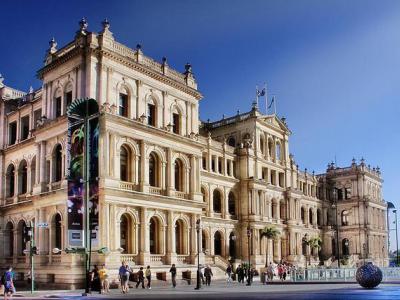 Treasury Building, Brisbane
The Treasury Building in Brisbane, once known as the New Public Offices, is a historic building formerly used for government administration. Constructed between 1886 and 1928, it served the Queensland Government. This Italian Renaissance style edifice was recognized as a heritage site on October 21, 1992, and added to the Queensland Heritage Register.

Situated at North Quay, close to Victoria Bridge's north end, the building spans a whole city block, bordered by Queen Street, George Street, Elizabeth Street, and William Street, though its official address is on Queen Street. Facing Elizabeth Street, it's directly across from Queens Gardens. In the late 1800s and early 1900s, the Treasury Building was a prominent symbol of self-rule and a center for various celebrations and nationalistic events.

Architecturally, the building reflects late 19th-century English styles, drawing inspiration from 16th-century Italian classical design. Its three facades are lined with arcades. These facades are symmetrical, featuring central towers that are slightly taller and topped with pediments. The building's corners are marked by protruding pavilions that end the arcades. The basement is notable for its smooth, horizontally lined rustication.

The exterior is mainly covered with sandstone ashlar, except for the inner arcade walls, which are made of brick and rendered to mimic ashlar. Different construction phases used various types of sandstone, noticeable in the color differences between the Highfields stone from the initial phase and the Helidon stone in later stages. The building's foundation is set on a porphyry base, and some sides have a matching low porphyry wall with a wrought iron fence atop it.

Today, the Treasury Building houses the Treasury Casino, operated by the Star Entertainment Group.
Walking Tours in Brisbane, Australia