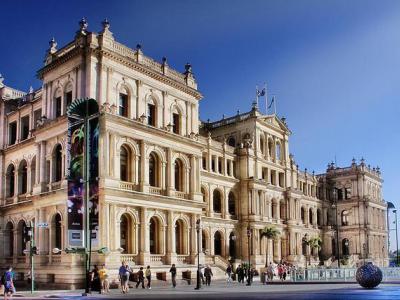 Treasury Building, Brisbane
The Treasury Building, also previously known as the New Public Offices, is a heritage-listed former government public administration building located in Brisbane. It was built from 1886 to 1928 for the Queensland Government. On 21 October 1992 the Italian Renaissance style building was added to the Queensland Heritage Register.

The building is located at North Quay, near the northern end of Victoria Bridge. Although officially fronting on Queen Street, the building occupies an entire city block surrounded by Queen Street, George Street, Elizabeth Street and William Street. The Elizabeth Street frontage is opposite the Queens Gardens. In the 1890s and early 1900s the imposing Treasury Building served as a symbol of self-government and as a focus for celebratory and patriotic displays.

The design of the building is consistent with English practice of the late nineteenth century in employing a classical style drawn from sixteenth century Italian architecture. Arcades protect the northeast, northwest and southwest elevations. The arcaded facades are symmetrical with central towers of one additional storey surmounted by a pediment. The corners are emphasised with pavilions which step forward terminating the arcades. The basement walls are distinguished by smooth banded rustication. The southeast facade has no arcade and no central tower.

The building is faced with sandstone ashlar except for the inner walls of the arcade. These brick walls are finished with lined and unpainted render imitating ashlar. Each phase of construction has used a different type of sandstone. A colour difference is discernible between the Highfields stone used for the first phase of construction, and the Helidon sandstones used for the later stages. The external walls sit on a porphyry plinth. A matching porphyry dwarf wall adjoins the building on some elevations surmounted by a wrought iron fence.

The Treasury Building is currently occupied by the Treasury Casino owned by Star Entertainment Group.
Sight description based on Wikipedia.
Walking Tours in Brisbane, Australia