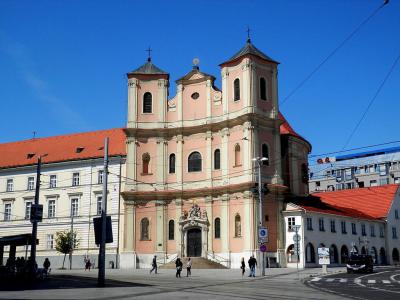 Trinitarian Church of Bratislava, Bratislava
The Trinitarian Church of Bratislava is also known as the Church of Saint John of Matha and Saint Felix of Valois. Located in the Old Town of Bratislava, the church is chockfull of fantastic Baroque features. The structure was erected on the original location of the first St. Michael's Church in 1717, after almost 200 years following the destruction of the St. Michael's settlement during the Ottoman wars.

Many of the components found in the design of the building were influenced by features of the St. Peter's Church in Vienna, the sister city of Bratislava. With its awe-inspiring vaulting and unbelievable frescos, this is categorically a must-see for those who appreciate architecture. The altar was manufactured by A.G. Bussi. The main feature of the construction is the altarpiece showing St. John of Matha and St. Felix of Valois ransoming prisoners, while the statues of St. Agnes and St. Catherine flank the altar.

Over the years, the great hall of the church has played host to various prominent composers who held concerts for the public, including Johannes Brahms and Franz Liszt. The building has served as a secular and sacred facility with everything from church services to political events being facilitated within its walls.
Trinitarian Church of Bratislava on Map
Walking Tours in Bratislava, Slovakia