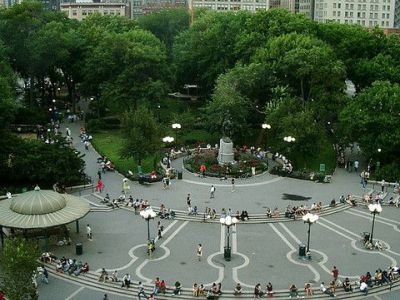 Union Square, New York
Union Square derives its name from its historical significance as the intersection of two major roads in New York City—Bloomingdale Road (now Broadway) and the Eastern Post Road (now extinct). Throughout its rich history, the square has served as a gathering place for various social, political, and cultural events. Initially, it functioned as an entrance to the city and a residential neighborhood. However, following the Civil War, it transformed into a bustling commercial hub.

The square witnessed notable rallies and demonstrations that shaped American history. One such event was the patriotic rally held after the fall of Fort Sumter during the Civil War, where a quarter of a million people gathered to support Union troops. Additionally, it was the site of the historic Labor Day March, one of the earliest workers' demonstrations in the world, which served as an inspiration for labor movements worldwide. In more recent times, the square became a central gathering point for mourners in the aftermath of the 9/11 terrorist attacks.

Today, Union Square remains vibrant and bustling, particularly during the summer months. Visitors can find people relaxing on the steps, enjoying lunch, and observing captivating street performances. Adorned with remarkable statues paying homage to prominent figures such as Gandhi, Washington, and Lincoln, the space hosts a remarkable year-round farmers market, operating on Mondays, Wednesdays, Fridays, and Saturdays, which showcases the talents of local chefs and offering an abundance of fresh produce.

Exploring Union Square offers a sweet experience of leisurely strolls, shopping, and indulging in delectable meals. To make the most of your visit, plan your itinerary around a satisfying meal or multiple dining experiences. It's worth noting that weekends tend to be crowded, so for a more relaxed experience, consider visiting during weekdays when the crowds are smaller.

Why You Should Visit:
Many interesting things worth checking out here, including: the central fountain, subway kiosks, the equestrian statue of George Washington, the Abraham Lincoln statue, a sculpture of Marquis de Lafayette and another of Gandhi, plus a year-round greenmarket where you can sample goods from local farmers. It also has several playgrounds, a lively holiday market, and benches you can sit on and watch a slice of New York go by. Cafes and restaurants also abound, so no need to worry about food.

Tip:
Stop by the Union Square station to read messages on the sticky notes left by passers-by, and feel free to leave one of your own!
Walking Tours in New York, New York
Useful Travel Guides for Planning Your Trip
---