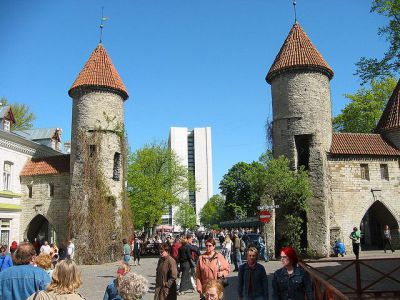 Viru Gate (Viru Värav), Tallinn
At one point in time, there were a total of 45 towers built into the walls that protected Tallinn. Twenty-six of those still remain. Two of the best preserved of the bunch are called Viru Gate. The gate dates from the 14th Century, as do most of the towers, and sits at the entrance way into the Old Town.

Today the two towers are quite lovely, having been covered in ivy over the years. It gives a gentle look to Viru Street. When you first enter the Old Town through the gate, it makes you feel as though you have stepped back in time.

The towers used to be the fore gates to the city, and a larger set was built a little further in, which were held up by a set of square towers. Most of the gate was pulled down in 1880, in order to make room for more street traffic. Since that time, though, the two towers have become a symbol for the Tallinn Old Town, which used to be the most fortified city in all of Europe back in the day.
Viru Gate (Viru Värav) on Map
Walking Tours in Tallinn, Estonia