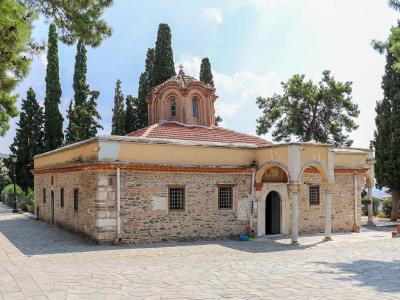 Vlatadon Monastery, Thessaloniki
Vlatadon Monastery is part of the Ano Poli Upper Town. Its also known as the Monastery of the Vlatades. When it was founded, it was called the Monastery of the Pantocrator. It was built during the 14th century during the end of the Byzantine Empire. It's part of Thessaloniki's UNESCO World Heritage Site.

Dorotheus and Markus Vlatadon founded the monastery in 1351. Historians believe the monastery was built on the same site that the Apostle Paul preached in AD 51. In 1351, Empress Anna Palaiologos retired to Thessalonica and gave the monastery its royal status.

Ottoman Turks began occupying the monastery in 1387. The main church was converted into a mosque, and the Turks plastered over the interior frescoes. Turkish troops billeted in the monastery during this time. When the Turks left in 1403, the monastery was returned to its original purpose. The Turks returned in 1430 but did not sequester the monastery again.

The monastery was renovated throughout the 20th century. The Patriarchal Institute for Patristic Studies operates in the monastery.

Several of the monastery's arches, semi-columns, and pediments are original. Most of the frescoes date to the 14th century. The monastery houses an extensive collection of Byzantine religious icons, scripts, codecs, patriarchal sigillum, and imperial golden seals.

The monastery is 120 meters (394 feet) above sea level and offers beautiful city and sea views.
Vlatadon Monastery on Map
Walking Tours in Thessaloniki, Greece