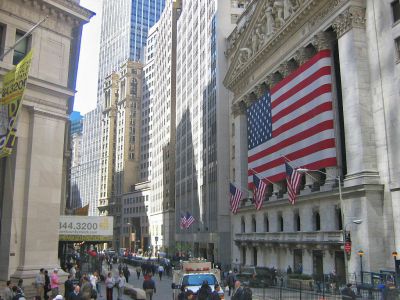 Wall Street, New York
In the days of New Amsterdam, Wall Street was known in Dutch as "de Waalstraat." The origin of the name varies. It might refer to the Walloon people from the Netherlands who settled around there. Or, the name connects with Peter Minuit, the Governor of the colony, who was a Walloon. Another theory holds that there was a wall or rampart of wood on the northern end of New Amsterdam. It was removed in 1699.

Wall Street covers an eight-block stretch of lower Manhattan. Broadway crosses at the west end and South Street at the East River end. Whether the name was for a wall or a Walloon, Wall Street today stands for the financial markets of the United States. In these short eight blocks is a major financial center of the world.

In the late 1700s, there was a buttonwood tree growing on Wall Street where traders would meet regularly under the buttonwood tree to trade shares. In 1792 they created the Buttonwood Agreement, forming the association that became known as the New York Stock Exchange.

The Brutalist and Bauhaus Post-Modern Craze architectural styles largely bypassed the Wall Street area. The buildings here are more venerable, products of the Gilded Age architecture. Facades, even on the tallest buildings, are more elaborate.

Wall Street landmarks include The Federal Hall National Memorial; 55 Wall Street, the former National City Bank Building; the former Customs House; 14 Wall Street, a 32-story Skyscraper with a stepped pyramid; the New York Stock Exchange Building on Broad Street; the Irving Trust Company Building, a 50-story Skyscraper; and the famous "House of Morgan" on 60 Wall Street.

Beginning in the vaunted Gilded Age, Wall Street has become an icon of a country developed by a system of capitalism, trade, and innovative ventures in business.
Walking Tours in New York, New York
Useful Travel Guides for Planning Your Trip
---