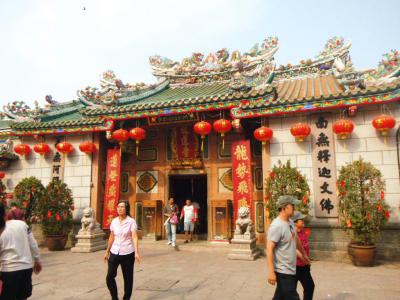 Wat Mangkon Kamalawat (Dragon Lotus Temple), Bangkok
Previously, and still often referred to as Wat Leng Noei Yi, this site stands as Bangkok's largest and most significant Chinese Buddhist temple. Its present name, Wat Mangkon Kamalawat, meaning "Dragon Lotus Temple," was bestowed upon it by King Chulalongkorn (Rama V) at a later date.

Established as a Mahayana Buddhist shrine around 1871 or 1872 (sources vary), this temple showcases a classic Chinese architectural style, characterized by its sweeping tiled roofs adorned with animal and floral patterns, notably the iconic Chinese dragons. Inside the ordination hall (ubosot), you'll find the temple's principal gold-colored Buddha image, featuring a blend of Thai and Chinese artistic elements, complemented by an altar for religious ceremonies.

As you approach the sermon hall (viharn) through the main entrance, you'll encounter imposing statues of the four guardians of the world, known as the Chatulokkaban, attired in warrior attire – two on either side. Throughout the temple grounds, various shrines pay homage to a diverse array of Buddhist, Taoist, and Confucian deities and religious figures.

Towards the rear of the temple complex, three pavilions stand dedicated to specific figures: one to Guan Yin, the Chinese goddess (or bodhisattva) of compassion; another to the temple's founder, Phra Archan Chin Wang Samathiwat; and a third to the saint Lak Chao. Nearby, a gallery houses gilded Buddha images posed in the double Abhaya Mudra position.

The courtyard in front of the main temple structures hosts several additional shrines, including a furnace for the ritual burning of paper money and other offerings to honor ancestors. Worshipers can often be seen here lighting incense sticks and maintaining the perpetual altar lamps.

Throughout the year, the temple hosts various festivities, including the celebration of Chinese New Year (usually in January or February) and the Chinese vegetarian festival (typically in September or October).
Wat Mangkon Kamalawat (Dragon Lotus Temple) on Map
Walking Tours in Bangkok, Thailand
Useful Travel Guides for Planning Your Trip
--- Top 15 Things to Buy in Bangkok
Well-made, local products not only remind people of the trip they've had, but also make great gifts to bring home to family and friends. Following is the list of original and representative of Bangkok local specialties that you might wish to consider as a memorable... 7 Places in Bangkok for Superb Street Food
Eating is huge in Bangkok, and luckily for the famished, you won't be that way for long, regardless of the hour. You can find conglomerations of vendors selling five-star fast food (in the you-won't-have-to-wait-long-to-enjoy-it sense, not McDonald's style) for under 100 baht (roughly...