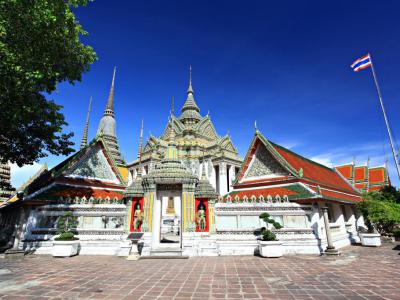 Wat Pho (Temple of the Reclining Buddha), Bangkok
(must see)
Wat Pho (the Temple of the Reclining Buddha) is the oldest Buddhist temple in Bangkok, located behind the splendid Temple of the Emerald Buddha, and is one of the city's largest. Built around 200 years before Bangkok became Thailand's capital, the temple is mainly famous for housing the huge Reclining Buddha statue along with the largest number of Buddha images within. The Wat was almost entirely rebuilt during the reign of Rama I, when the capital was moved to Bangkok.

The highly impressive gold-plated Reclining Buddha is 46 meters long and 15 meters high, and is designed to illustrate the passing of the Buddha into nirvana. The feet and the eyes are engraved with mother-of-pearl decoration. The bottoms of the Buddha's feet are intricately decorated with 108 auspicious scenes in Chinese and Indian styles.

The Wat Pho complex consists of two walled compounds, bisected north-south by Sanamchai Road running east-west. Reclining Buddha and a massage school are found in the northern walled compound. People visit mostly this section which comprises a large temple hall enclosed by 394 bronze Buddha images. There are also 91 chedis of varying sizes around the ground. The library, impressively decorated with figures and pagodas made of porcelain, is also present nearby. The large grounds of Wat Pho contain more than 1,000 Buddha images in total, most brought from the ruins of the former capitals Ayuthaya and Sukhothai.

Wat Pho is also famous as Thailand's first university, as well as the birthplace and training center of traditional Thai massage. Stimulating rather than relaxing, and incorporating yoga style postures to relieve stress and improve blood circulation, traditional Thai massage is quite different from the other forms of therapeutic massage. Wat Pho is a good place to try it – many of the rich and famous are known to have come here specifically for that. Try and see if you like it!

Traditional Thai dance and music are also taught within the temple, on Sundays. Astrologers and palm readers are likewise available for consultation. For a very small donation, that helps to maintain the temple, you can also receive a blessing from a monk.

Tip:
Make sure to bring exact THB amount for the entry tickets because, for some weird reason, they won't give any change.
It takes about 2 hours to just go round and make photos, but you can easily spend 4-5 hours in this huge complex altogether.
The admission ticket comes with a bottle of water and there are refill stations with cool clean water inside.
Women and men must wear long pants (covering knees) and shirts with long sleeves.
To enter the sanctum sanctorum, you'll have to take your shoes off.

Opening Hours:
Daily: 8am-6:30pm
Wat Pho (Temple of the Reclining Buddha) on Map
Walking Tours in Bangkok, Thailand
Useful Travel Guides for Planning Your Trip
--- Top 15 Things to Buy in Bangkok
Well-made, local products not only remind people of the trip they've had, but also make great gifts to bring home to family and friends. Following is the list of original and representative of Bangkok local specialties that you might wish to consider as a memorable... 7 Places in Bangkok for Superb Street Food
Eating is huge in Bangkok, and luckily for the famished, you won't be that way for long, regardless of the hour. You can find conglomerations of vendors selling five-star fast food (in the you-won't-have-to-wait-long-to-enjoy-it sense, not McDonald's style) for under 100 baht (roughly...