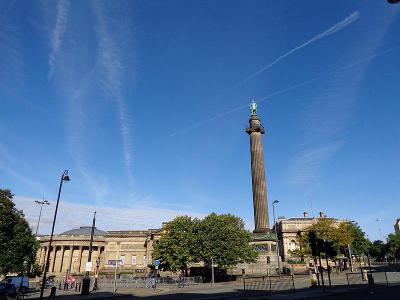 Wellington's Column, Liverpool
Wellington's Column is a towering memorial to the Duke of Wellington, located on William Brown Street in the historic heart of Liverpool city centre. Commissioned after the Duke's death in 1852, it is the work of two Scottish siblings – Andrew Lawson, who designed the Greek style column, and his brother George, who created the statue of Wellington. It was one of the last column monuments to be erected in the UK, largely because of lengthy delays in its construction. Wellington's Column was eventually completed in 1865.

Built from stone sourced at local quarries in Runcorn and Darley Dale, the column is 81 feet high. The statue of Wellington, said to be cast in bronze taken from the cannons used at the Battle of Waterloo, is facing to the southeast, towards the Belgian fields where Wellington claimed his most famous victory. Brass plaques at the base of the monument list the Duke's many military victories, as well as a relief of the final charge at Waterloo.

The style and scale of the monument draw obvious comparisons with one of the UK's most famous landmarks, Nelson's Column. Wellington's Monument measures 132 feet in total, just 30 feet shorter than its London counterpart. Full details of the measurements of this impressive feat of engineering can be found around the base of the column.

Why You Should Visit:
Unfortunately, visitors can't climb to the top of the column, but it is an impressive part of Liverpool's museum quarter, nevertheless.
Wellington's Column on Map
Walking Tours in Liverpool, England