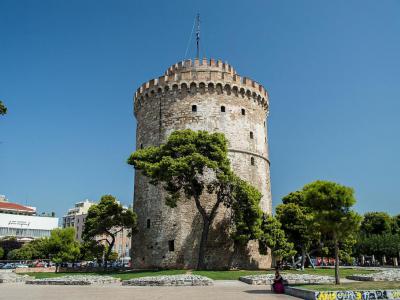 White Tower of Thessaloniki, Thessaloniki
(must see)
The 23 meters (75 feet) tall White Tower is known as the symbol of Thessaloniki. The Ottomans built the tower around 15th century. It is thought that the fortress was designed by the famous Ottoman architect Mirmar Sinan. It was originally surrounded by fortified walls and was an essential part of Thessaloniki's defenses.

When it was first constructed, it was known as the Lion Tower to honor the Ottoman's victory. The tower was part of the old city's walls and separated the Jewish quarter from the Muslim quarter.

It was renamed the Tower of Kalamaria in the 17th century. It was then used as a garrison. Next, the tower was used as a prison and became known as the Tower of Blood or the Red Tower. During this time, the tower was the site of torture and execution. For example, in 1826, Sultan Mahmud II ordered the massacre of the rebellious Janissaries imprisoned in the tower.

Finally, the tower was painted white in 1891 and named the White Tower. Some historians suggest that the Ottoman Empire sought to "whitewash" the tower's brutal torture history with a change of paint and a new name. While the truth behind the change is unknown, the White Tower name has stuck.

King George I of Greece was assassinated near the White Tower in 1913. Hopefully this was the last drop of blood for the White Tower.

The tower served as an Allied forces communication center during World War I. At this time, the defensive walls were taken down. The White Tower also protected priceless antiquities during World War I.

Thessaloniki's air defense operated from the tower from 1912 to 1983. The tower also housed a meteorological laboratory.

Visitors can enjoy expansive views of the city and Thermaic Gulf from the top floor. In addition, the promenade in front of the tower is a popular spot for photos and meetings.

The White Tower is home to a museum that celebrates Thessaloniki's history. Exhibitions explore the city's history from its founding in 316 BC to today.
White Tower of Thessaloniki on Map
Walking Tours in Thessaloniki, Greece