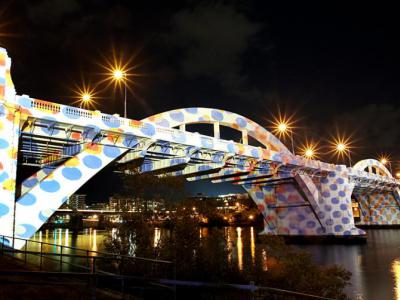 William Jolly Bridge, Brisbane
The William Jolly Bridge is an old road bridge that spans the Brisbane River, connecting North Quay in the Brisbane CBD to Grey Street in South Brisbane. It was designed by Harding Frew and constructed by MR Hornibrook Ltd. The bridge was built between 1928 and 1932 and is considered a heritage-listed structure.

The design of the bridge reflects the Art Deco style that was in vogue during its construction period. It comprises two piers situated in the river and two pylons on the riverbanks, providing support for three elegant arches. These arches, often referred to as "rainbow arches," were a novel design and claimed to be the first of their kind in Australia. The bridge itself is made of steel with a unique concrete covering that gives it the appearance of "light-colored porphyry."

When it was first opened, back in the midst of the Great Depression, the bridge was initially known as the Grey Street Bridge. However, its name was changed to the William Jolly Bridge on July 5, 1955, in honor of William Jolly, who served as the first Lord Mayor of Greater Brisbane. The bridge was officially recognized for its historical significance and added to the Queensland Heritage Register on August 6, 1996. In 2003, the bridge served as a filming location for Inspector Gadget 2, adding to its cultural and cinematic history.

Since 2009, the bridge has been used as a canvas for artistic light displays. Two five-meter-tall towers are employed to project images onto the bridge, creating captivating visual experiences.
William Jolly Bridge on Map
Walking Tours in Brisbane, Australia